Brian McIntosh creates one of a kind furniture and accessory pieces from solid hardwood. Custom orders are invited and can be created to suit the client's needs, including specific finishes, furniture styles and wood choice.
His previous work includes full size beds, china cabinets, bunk beds, dining tables, desks, blanket boxes, coffee tables, night stands, book shelves, benches, footstools, patio tables, outdoor furniture and much more.
Typically, his personal style, encompasses traditional furniture since it allows him to create using traditional methods of joinery. Mr. McIntosh enjoys incorporating dovetails and mortise and tenon joinery in his work. He is, however, open to creating pieces with a more modern twist. Each piece is one of a kind, there is no mass production in this workshop.
McIntosh got his early woodworking training with his father, a skilled carpenter. He went on to receive more training at Pre-Confederation Furniture in London, ON, as summer work between University years. Another influence was the Holzwerkstatt Bunte in Germany, where he did woodworking while he was completing his grad studies in music. More recently he has been honing his skills by attending the highly respected Rosewood Studio working with highly regarded artist/instructors like Garrett Hack, Adrian Ferrazzutti and Ron Barter.
An example of my singing can be found below.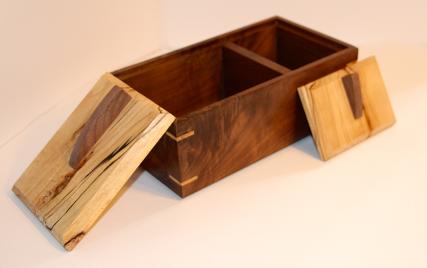 Walnut and Maple jewellery box.